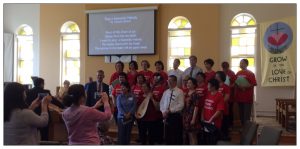 感谢神奇妙的恩典,于人村社區长老教会在2017年9月10日开始了国语堂。由马丁主任牧师与黄綉惠牧师合力开创這历史性的事工。虽然只有18人参与首次的敬拜,我们仍未氣餒。敬拜是依照传统的改革宗方式进行。教会鉴于草创时期,缺乏同工及事工人员,故崇拜趋向简单庄严的方式。但如今已有一位弟兄洗禮,令人鼓舞。
每周间有星期二,四的英文学习,ENJOY中英喜樂团契並行。牧者服事的对象也有60-80 人次。也因着于人村社區长老教会看重及爱护说国语的群体,長执会及会友竭诚開放教会場地,欢迎健康快樂俱樂部在每星期五免费使用;
每星期四的交谊之夜集聚各方菁英恩赐交流,建立社區多元文化团契精神,无论信徒与非信徒皆能齐聚一堂同享上帝长阔高深的愛。
我们深信上帝开启的事工,祂必一路带领,供应,感动更多的说国语的同胞及海外华侨来此聚会。
顺服聖靈的引领及鼓励,我们勇敢的与神同行走開荒的路程。
愿我们得神喜悦成为本社区的上帝愛人之中心。这事工是上帝的梦想異象也是我们会友及牧长们的美梦。愿上帝坚固成就祂自己的事工,擴展祂的国度。
祂是個常常给愛神的人创造无限惊喜的上帝!
---
---
Amazing grace!  We started the Mandarin worship/fellowship at 9:30-10:30am on September 10th, as planned by Rev. Marty and Rev. Grace Chang.  We had about 20 Mandarin speaking people at that first service.
The attendant members are mainly non-believers and new seekers.  These folks are mostly from our Thursday Night fellowship activities and the Friday Health and Happiness Group, as well as passers-by who see our sign.  There are at least seven Chinese/Mandarin churches around the Unionville area, we are the new rising star.
My style of worship is more contemporary and seekers-friendly;  thus it is less formal than the Presbyterian tradition.  My sermons will focus on seeker-friendly subjects: such as The Price and Value of Life; Successful Immigration from Here to There; Why Jesus? What is Love? I Have Chosen You; etc.
On most Sundays the services will be held in the Fellowship Hall.  On occasion they may move to the Sanctuary as time goes on. At the moment we have no pianists but will pray for this once we establish the foundation and fellowship.
With the help of Administrator, Margaret, Sylvia and Rev. Marty, we had a very wonderful start.  And we are all excited about this historical new ministry in our church.
God surprises us all the time and will accomplish God's own Dream here at UPC.
Rev. Grace Chang